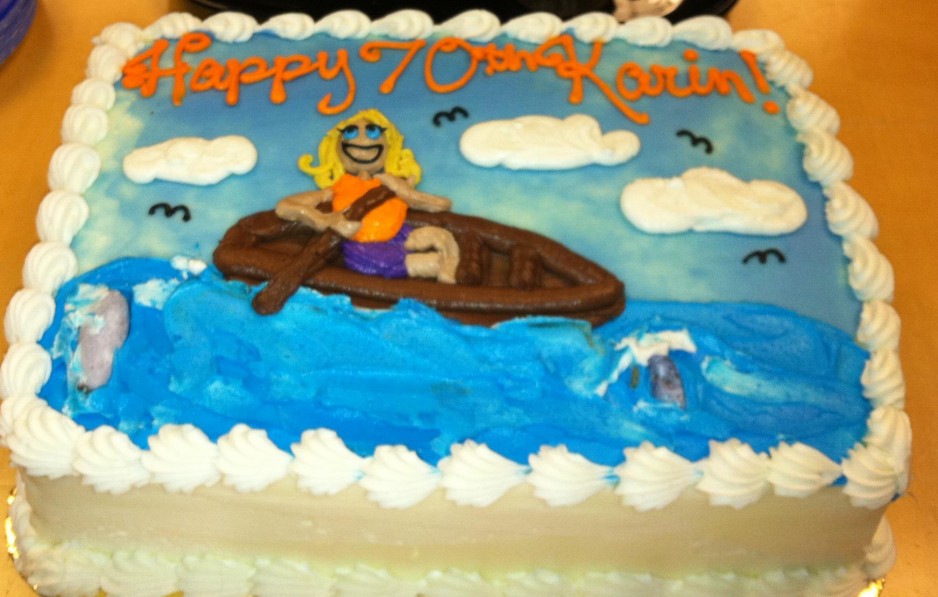 Ten years ago I started a blog called Not Your Grandmother's Seventy. Tag line: living your best life at any age. I started it in commemoration of turning seventy. I blogged on and off these last ten years. Sometimes diligently weekly, sometimes I skipped weeks, months, even years. One year ago I started thinking about what I should do with this blog. Rename it? What should I call it? None of that mattered because I did—nothing. Oh, I talked about it. A lot. I wrote a few pieces that were well received but without consistency I pretty much lost my audience. So now what?
WE ARE BACK
Still working on ultimate look and current name is simply: Karin Quirk. And so it shall be until I get inspiration for another title. Hopefully I'll get some input from my readers.
SO WHAT DOES THAT HAVE TO DO WITH BIRTHDAY CAKE?
Ten years ago a good friend provided the cake for my birthday party. It was an amazing cake but the most amazing thing about it was that she had a representation of me on a raft going down a river. This was an homage to my birthday trip down the Colorado river. A fine cake indeed.
And I clung to that image as the cover for my blog. For ten years! When I was working with my support team on creating the new blog, I was told the birthday cake had to go. We had to explore new designs. Designs that more accurately depicted what this new blog would be about. This is not about age. A seventy year old's birthday cake would not do. So good bye birthday cake.
NOW WHAT?
I have been asked why I'm doing this? What is my message? Who am I trying to reach? Can I say I don't know? No? Then let's dig in. Why am I doing this?
INSPIRATION
At my last birthday party (parties actually) all the cards and well wishes used the word inspiration. I'm inspirational? Why, because I'm still above ground? No, that wasn't it. I have not lived an ordinary life, that's for sure. I have had ups and downs and even a few triumphs. In my day job I work hard to inspire my clients to build their new lives. My message is don't give up. It is never too late to start again.
I want to entertain, make you laugh, and, yes inspire you. When I am doing that, I laugh at myself and even inspire myself —sometimes I will tell you funny things that happened to me. Share inspirational stories. There's that word again.
WILL YOU SHARE THIS JOURNEY WITH ME?
Stick around and let's see how this evolves. I want to engage you as part of my community
BYE BIRTHDAY CAKE

In keeping with the theme of it's never too late, today I took a look at the octogenarians among us. We are a powerful lot: politicians and activists. Still very active. I've included the president of the United States because he will be joining us soon.
Nancy Pelosi 81
Chuck Grassley 88
Bernie Sanders 80
Gloria Steinem 88
Jane Fonda 83
Joe Biden 78
Rings Starr 81
Why, you say, am I telling you this? It's really for myself. I am reminding myself that it really is never too late. I had resisted making five year plans and goals because it did seem too late. There is a joke about being too old to buy green bananas and many more jokes like it. Now we know: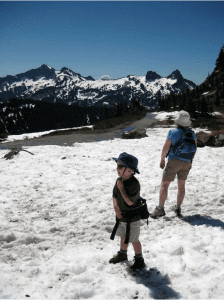 Make the plan!
Yes, pandemic has interfered with some of our plans. Most travel has been postponed and we aren't planning big parties. However, we can still plan. What have you wanted to do but felt it was too late? You're too old? My purpose here is to prove you wrong. Actually, the purpose is to prove it to myself.
River cruise, white water rafting, China? Been there. Mountain climbing, safari, Antarctica? Not for me. I guess I have to admit I've had a pretty full life after all. So what's next? Here's my list:
Iceland (October)
Road Scholar adventure
Cooking in Italy with friends
Outdoor concerts
A beach retreat with friends
I'm sure the list will get longer. I may start a journal page for the bucket list.
Here is my challenge to you. Sit for a while and think about what you want to do in your future, be it next week, next year or the elusive someday.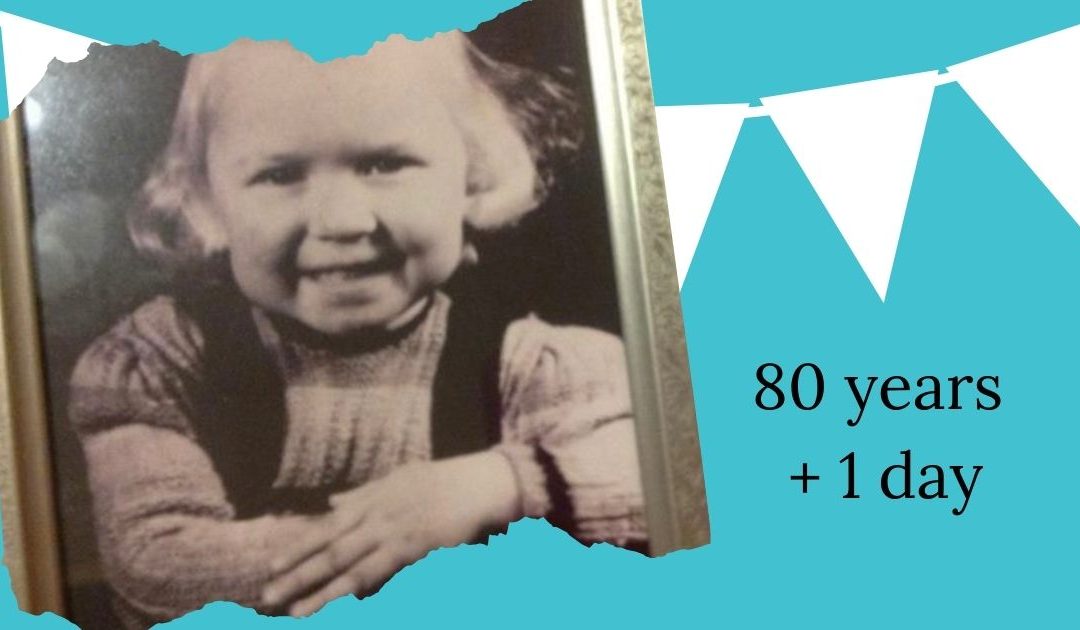 Does it feel different? Of course not. Why do we think we will wake up the next morning and everything will be different?
The pandemic is still raging with Delta variant our latest cause for concern
Climate change is still real
Forest fires are still cause for concern
Some people still think the former President is still president
We are more politically polarized than I can ever remember
There are still anti Vaxers and anti maskers
White supremesists still roam the land
And yet we continue on.
---
I still have a wonderful water view, good health, a great family, a supportive community, many friends, a thriving business and a great hairdresser.
Do I have a secret to health and happiness? Nope.
Have I learned how to be more productive? Nope
Do I still have times of depression? Yup
And yet I continue on.
What are some tactics that help?
Gratitude practice/morning practice
This may be the single most important thing I do to keep it all together. For a while I was listing six gratitudes every day on Facebook. Six. Don't stop at five. Sometimes I write in a journal, at this time I am trying out a digital diary/planner. I am not sure if that will be my go to. I've had some frustrations with my work disappearing and other technical details. A paper notebook is good but I cannot read my handwriting and I don't always have the journal with me. On my desk I currently have:
Bullet Journal
Miracle Morning
Five minute journal
Elisi (a digital planner)
I seem to be using a combination of all. Maybe that's OK
Exercise
I've heard that helps, I say somewhat jokingly. I try to walk every day. Emphasis on the try. I am so proud of my daughter who has achieved a mile a day for 116 days. I'm not there yet. I do go to Pilates twice a week and a physical therapist once a week. My understanding is we need to just keep moving the body.
Brain Health
According to Sanjay Gupta in his book Stay Strong, the most important thing you can do for your brain is exercise. Doesn't take a lot but get that heart rate up several times a day.
I am also convinced that those of us who continue our work beyond "retirement" maintain better brain health.
Have Young Friends
This may seem to be counterintuitive. Don't you want to have older friends so you look younger by comparison? I don't think so. My younger friends keep me current and relevant. There may be a lot of reasons my friends are younger. I'm not opposed to having older friends but I just don't. I won't wear old lady shoes but I do seem to have some leisure suits that scream Golden Girls.
Stay current
It really bothers me when people tell me they never read the news. Have you heard the saying "those who refuse to learn history are condemned to repeat it?" Head in the sand won't solve the problems I opened with above. There are people working on solutions. Support those people if you can't be one of then yourself. But don't ignore them.
And those are my observations of the day after. Stay tuned for more.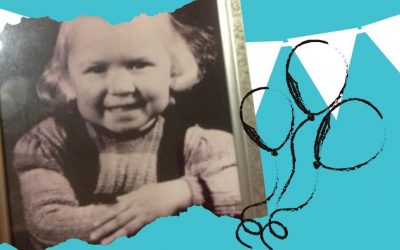 I have subtitled this blog Live your best life at any Age —it is never too late.  Do  you really believe this?  Do I? Is it truly never too late? I started this blog as an inspiration to others, and myself, that it truly is never too late.  I started it as I turned...