"You really need to understand football, all of you" was a command from Mrs. McLaughlin.  (The same Mrs. McLaughlin that I credit with making me take college prep classes which changed my life)
So we learned the basics of football.  First and Ten — do it again.  What does that mean?  Scoring, offense, defense quarterbacks.  All the basics. We learned it because it would make us more rounded.  I am not sure if any of this sank in at the time but today, more than sixty years later I pay homage to Mrs. McLaughlin.
Football was not important at in my young marriage years.  I married a scholar who eschewed team sports.  Or individual sports, or most anything other than backpacking and hiking.  His favorite gambit was to walk into a room where people were watching football and ask "What inning is it?"  No.  Football was not a part of our life.  Expect for one game and tha game has become my often repeated family story.  (Number 14, I believe).
I had to look up the year.  Thanks, Wikipedia!
The expansion Seattle Seahawks of the NFL played their first game ever on August 1, 1976, a preseason game against the San Francisco 49ers at the Kingdome.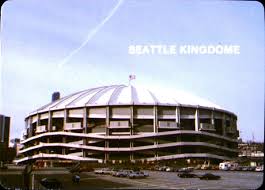 Yes!  Seattle had a new stadium and a NFL team.  My husband's boss invited us as their first guests to share their season tickets.  Husband, of course, realized it was a command performance and an honor to be invited.  He did not do his what inning is it bit.  Of course, thanks to Mrs. McLaughlin I could be somewhat conversant.  The Kingdome is gone.  The husband is gone.  Football and the Seahawks remain. And, I have a good story to tell.
If you are not from Seattle, you may not know that the Seahawks are a big deal.  Fans are known as 12s.  Every Friday starting in late summer you will find bank tellers, baristas and folks on the street wearing their 12 shirts.  Those in the know where players numbers and hope your number doesn't get traded too early.
Yes, I know, head concussions, injuries and all that.  Football may be losing favor.  There is also the flack about a certain player kneeling for the national anthem but in Seattle, and many other cities the local team still sparks enthusiasm.  And let me come to football's defense
It builds community and interaction.  In these days of only digital communication it is fun to gather with others in a common endeavor — cheering our team on.  Most people have their local favorite place to gather.  I have had "ladies watching Seahawks and eating and drinking groups" at my house. We gather in our local favoriate hang outs.  My personal local establishment refused to have a television for many years.  They do now.  Business is booming on Sunday afternoon.  When watching the Seahawks politics takes a back seat. The only politics is the local interloper with a Cubs or Steelers shirt.
When the Seahawks won the the championship and were on their way to the Super Bowl the town was jubilant.  Police and pedestrians were hugging each other and sending high fives.  We are Seattle.  We are polite.  We do not riot.  Not the football folks anyway.
I am not one to normally wear sports caps but when traveling it is amazing the people you meet if you are wearing a Seahawks hat.  I got high fived in Amsterdam.  As I said — community.
A friend of mine is a sports announcer and she has a presentation called "Talk Sporty to Me" and she makes the point that you don't have to know a lot to engage in conversation wherever you go.  Just be able to talk about that amazing last second field goal that won the game or some other memorable play.  She even publishes talking points for us weekly.
So once again I am thankful to Mrs. McLaughlin.  Along with English composition she taught me something I could carry into my late years. One of my friends, a lovely person in her 80s, is the Seahawks number one fan.  She remembers that first game in the Kingdome.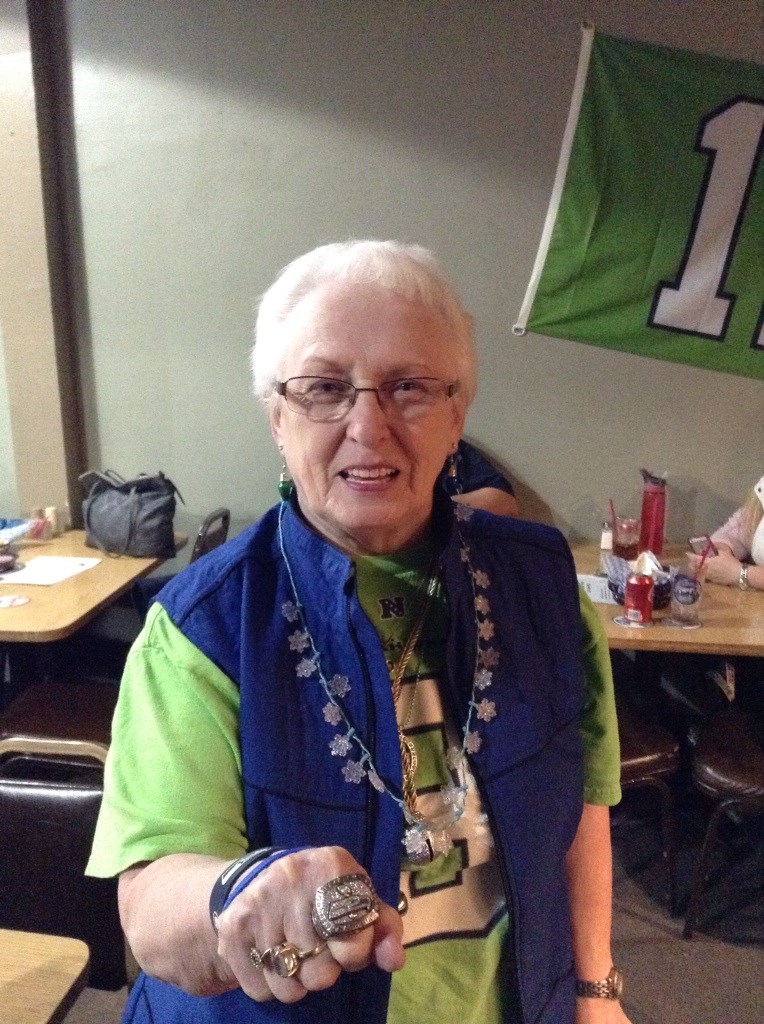 And of course I have to add this all time favorite.  Grandson's first super bowl.
And here he is now.